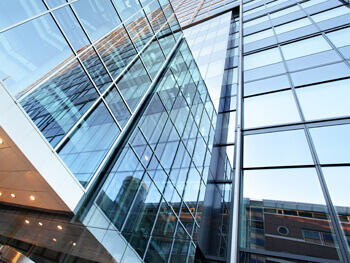 From mechanical construction and site-based facility management services to energy efficiency and interior/exterior maintenance, EMCOR Building Services (EBS) companies have your site covered.
Few organizations are structured to provide the depth of field experience and certified expertise offered by our companies, not to mention their best-in-class processes and continuous client collaboration.
It's this unique combination of offerings that makes our building services companies second-to-none in the industry.
With 60 regional operations providing local service and the solid backing of EMCOR Group, (NYSE: EME), the range of capabilities offered by EBS companies is matched only by their combined nationwide reach.
Name your market, an EBS company is there – from healthcare and education to technology, transportation, retail, government organizations, and more.
Real-time Connectivity
The experts at our companies have the benefit of real-time connectivity to an updated database of millions of work orders. With access to this vast knowledge, they're able to benchmark performance across a variety of organizations and facility types, letting you know where your building stands.
Safety, Quality, and Productivity
Each of our organizations has a deeply embedded safety culture that has helped keep EMCOR's safety performance consistently better than the industry average.
Investment in education and the latest tools and equipment, along with empowering employees to promote and insist on jobsite safety, has helped EMCOR companies achieve one of the finest safety records in our industry.
Our companies pride themselves on their dedication to providing only the highest quality work. They use industry-best materials and practices and take the time to ensure work meets the highest standards.
They also understand that clients' businesses depend on their services to keep operating, and that their productivity drives success. Their highly trained and skilled technicians will provide the speed and efficiency you need to help keep your business running with minimal downtime.