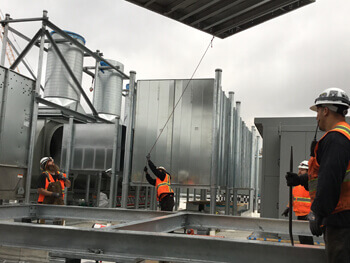 EMCOR Building Services (EBS) companies are at work in virtually every market across the country helping to keep critical facilities operating at peak efficiency and driving productivity in both the public and private sectors.
Their teams are on the job around the clock, providing a variety of construction and maintenance services.
Comprehensive Building Services
Integrated Facilities Management
The licensed and certified technicians at EBS companies help manage ongoing facilities operations while overseeing expansion, reconfiguration, and renovation projects. No matter the building type or function, they have the expertise required to provide a single-source solution to meet the exacting needs of your facilities.
National HVAC and Mechanical Services
With more than 5,000+ professional technicians nationwide, our companies can help improve energy efficiency through commissioning and recommissioning services, which analyze and confirm that systems are operating according to the design requirements. In addition, their mechanical service companies deliver a broad range of energy expertise and solutions.
Construction Services
Our nationwide network of mechanical service contractors deliver fast-track schedules, rigorous construction standards, technical BIM software, and innovative design-build services.
Operations and Maintenance Services
EBS companies have significant experience managing preventive equipment maintenance and responding to failure or decline. From janitorial and trade services, to landscaping and snow removal, to operations support and more, our companies can help you maintain your multisite facilities portfolios to the highest possible standards using only the most qualified and certified tradespeople.
Energy Solutions
The experts at our companies can analyze energy output and identify opportunities for efficiency upgrades. And, as the largest network of independent building automation services providers in the U.S., our organizations are equipped to design, install, operate, and maintain the systems that help control (and conserve) energy use.
Customer Solutions Centers
Our 24/7/365 Customer Solutions Centers (CSCs) are state-of-the-art operations centers that unite technology, integrated work order management, and facilities expertise—serving as the nerve centers for clients across the country.
For more information about any of the services, contact us today.